The new REMA PT pallet trucks fitted with pump (model 25) are very manoeuvrable and user-friendly. The tandem fork rollers are advantageous when using these pallet truck on a less smooth floor. Single truck roller designs are frequently used in the transport sector (rubber steer wheels and polyurethane rollers).
Properties
Quick-Lift pump (model 25) for a quick lifting of pallets.
The pump unit has an overload protection function.
A chromate-coated and polished piston rod provides a long life for the hydraulic cylinder.
Operation:
All pump functions can be operated precisely by means of the three-position control lever.
Variable lowering speed even under load.
The tow bar will automatically return to vertical position.
Fork:
The robust plate steel fork profiles have flattened ends and they are fitted with in- and outrunning rollers to move pallets easier.
Technical specifications:
Highest fork position: 200 mm.
Steering wheel: 200 mm.
Fork rolls: 82 mm.
Marking: According to standard, CE-marked
Standard: EN 12100, EN 3691-5, EN 1757-2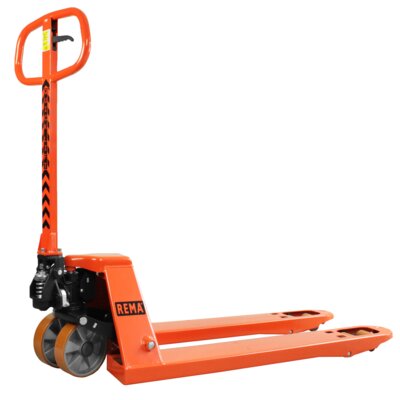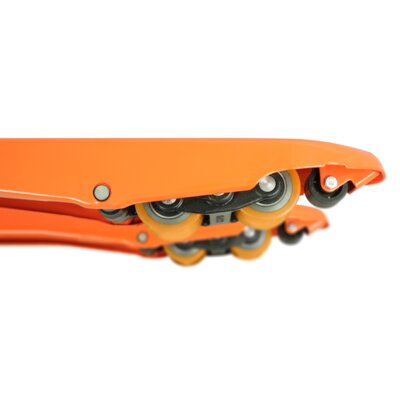 Select a row from the table below, then click the add to quote button
| Model | Material steering wheel | Material fork rol |
| --- | --- | --- |
| PTS-25TPP | Polyurethane | Polyurethane |
| PTK-25SPR-E | Rubber | Polyurethane |
| PTC-25SPR | Rubber | Polyurethane |
| PTK-25TPR | Rubber | Polyurethane |
| PTS-25TPR | Rubber | Polyurethane |
| PTSKB-25TPP | Polyurethane | Polyurethane |
| PTS-25TNN | Nylon | Nylon |
| PTB-25TNN | Nylon | Nylon |
| PTL-18TNN | Nylon | Nylon |
| PTM-12TNN | Nylon | Nylon |
| PTX-10TNN | Nylon | Nylon |
Manuals / info / downloads
Manuals / info / downloads