Sustainable Practices/Product info

We underline the importance of sustainability today and tomorrow.
---
At Rema® we value Sustainability a lot. This results in many ways, but today we would like to take this opportunity to introduce you the new Rema® Re-Line harness. A fully recycled harness with an excellent quality.
Before giving more information about the harness, we are going to explain the importance of one of Rema®'s core values: Sustainability.
---
Reuse Reduce Recycle
---
We've all heard about the 3 R's of Sustainability.
This is a way to put words into action and to handle in a proper and sustainable manner. The goal is to conserve natural resources and prevent waste.
Let's have a look at how Rema® took care of these 3 R's when producing the new Rema® Re-Line.
Reuse
We reuse PET bottles.
PET stands for ''polyethylene terephthalate'', which is a form of polyester. PET is known to be a strong and light type of plastic, mostly used for packaging foods and beverages. The polyester can be recycled by thoroughly washing and re-melting it, or by chemically breaking it down.
Reduce
During the production process, we reduce a lot of waste by reusing materials. The waste Rema® avoids, would be very harmful for the environment.
Besides reusing, Rema® reduces harmful materials by using sustainable alternatives.
The Rema® Re-line is made of OEKO-Tex, meaning that they are free from harmful chemicals.
In addition, the fall arrest harness is also PFC-free, meaning that there are no dangerous-fluorinated compounds used that are bioaccumulative.

Lastly, the Rema® Re-Line harness is Chrome 6-free. Chrome 6 is a harmful coating often used within the lifting and hoisting industry.
Recycle
As already mentioned, the Rema® Re-Line harness is a fully recycled product, which means that the harness is made from recycled materials. Very important, is that the Rema® Re-Line can be recycled again. The cycle repeats and the materials can be perfectly used for new purposes.
Reuse, Reduce, Recycle and ... Repeat!
---
Product info Rema® Re-Line

Most harnesses are equipped with plastic rings, but to ensure a long lifetime of the product, Rema® makes use of steel D-rings.
The Safety Harness is equipped with high frequency RFID sticker for an easy service, inspection and asset control.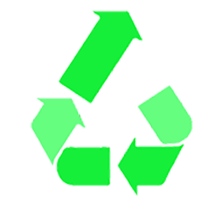 The reused PET bottles are, to be specific: up-cycled.
Wondering what this means? Well, it simply means that the recycled raw material is as pure as, or even more pure, than the original raw material was before the recycling process (!).
What is OEKO-Tex? OEKO-Tex refers to the ''STANDARD 100 by OEKO-Tex®.'' This is a label known over the whole world, meaning that textiles are tested for harmful substances. It is a synonym for customer confidence and high safety of the product. For the new Rema® Re-Line, this means that the harness is free from hazardous chemicals.
Read more about OEKO-Tex here.
The Rema® Re-Line has Chrome 6-free elements. The harmful substance used in the coating is avoided.
Fall indicators differentiate the Rema® Re-Line from other harnesses. You can see them clearly on the picture (left and right). This will indicate if the Re-Line has been exposed to shock forces when falling.
To guarantee an extra safety, the Click buckles have a color indicator which show if the buckle is safely locked (green).
Rema® is more than proud to present you this new sustainable innovation. We use non-hazardous substances as much as possible, during our production process. Besides that, we offer a wide range of trace parts. Developing a long term product is part of our sustainable vision. Making your hoisting and/or lifting work easy, is what Rema® stands for.

If you would like to have more information about the Rema® Re-Line, you can find it here.
---

The company's road to sustainability has 5 different focus areas: Sustainable Supply Chain, Sustainable Operations and Sustainable Customer Offer.
You can read more about it here.